The FHIR Implementations Working Group has recently launched a work stream dedicated to advancing Canada's efforts and involvement in SMART Health IT's SMART on FHIR open specifications, with a future focus on the CDS Hooks specification.
SMART on FHIR
SMART on FHIR is a specification that describes how to build an API into source systems like an EMR, HIS, or even a jurisdictional EHR, allowing third-party apps to be launched securely within the source system. SMART on FHIR uses FHIR as the underlying data model in conjunction with widely-adopted protocols such as OAuth to handle authentication and context sharing.
It's impossible for EMR and HIS vendors to develop products with all the features and functions needed by their diversified users (e.g., Nurse, Pharmacist, Lab Technician, Occupational Therapist, etc.), who also work in different areas of specialization (e.g., Trauma, Mental Health, Cardiology, Obstetrics, etc.) and in different care settings (e.g., Acute, Community, Long-Term Care, etc.). However, when these products support SMART on FHIR, it allows them to launch third-party apps that are tailored to the needs of individuals, such as calculators for cardiovascular risk scores or functionality for charting newborn hyperbilirubinemia.
Vendors around the world are creating APIs based on SMART on FHIR and are starting to launch their own app stores (see Cerner's App Gallery). Underpinning these efforts are vendor-led consortiums such as the HL7 Argonaut Project that have established profiles to constrain and/or extend base FHIR resources to further enable third-party apps to run in their products with less need for customization. Since these vendors sell their products in Canada, there is a need to analyze their profiles to ensure they work in a Canadian context.
At its core, SMART on FHIR is essentially an open and organic way for digital health professionals to define and record (and reproduce for others) the various relationships and technical connections between SMART apps and other electronic health records and systems.
CDS Hooks
A testament to SMART on FHIR's value and extensibility, CDS (clinical decision support) Hooks is one such open specification for getting EHR systems to query for decision support during the clinical workflows. It also supports CDS activity and functionality outside of call-and-response interactions. CDS Hooks can be used as a CDS system which monitors on-going activity in the source system (e.g., a hospital information system, EMR, or even a jurisdictional EHR), and is triggered in real-time by user actions such as opening a patient record, or filling out a patient's prescription.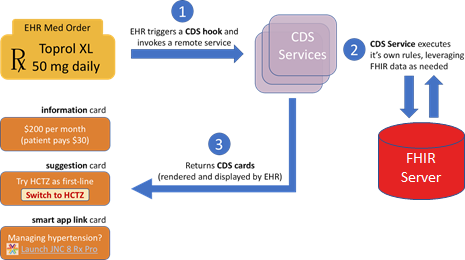 Image retrieved from http://cds-hooks.org
When one of these 'triggering' actions occurs, the source system notifies each of the CDS services which are registered to that action, and then produce sets of 'cards' for the user, based on the action which triggered the CDS Hook. These 'cards' are displayed to the user based on the necessary use case; they can be textual information, suggestions for action, or links to outside apps or reference material (i.e. other SMART apps). A common set of CDS Hooks is already drafted for established use cases, however it is by no means a closed list; digital health communities such as the FHIR Implementations working group are encouraged to develop and implement new 'Hooks' for new use cases.
CDS Hooks and its broader SMART on FHIR initiative demonstrate that digital-focused health policies and strategies are beginning to catch up with the breakneck pace of advancements in the capacities of our health IT. In the American context, congress has passed legislation (21st Century Cures Act) which mandates that EHR vendors must provide APIs for their system. This means that integration with apps external to the EHRs will quickly become a foundational standard against which patient and provider experiences with digitized health information will be assessed. Source systems which do not open themselves up to connectivity through the above initiatives and become involved in these conversations and advancements will soon find themselves left behind as connected, secure, and high-quality health care takes its next big leap forward.
Bringing it Home: SMART on FHIR / CDS Hooks in Canada
These innovative approaches to collaborative, value-based FHIR implementations, and their potential for advancing the adoption and meaningful use of FHIR-based systems in the Canadian context have informed the FHIR Implementations working group's decision to make SMART on FHIR and CDS Hooks a formal agenda item and work stream.
Echoing its kick-off meeting on November 17 2017, the primary objective of the SMART on FHIR / CDS Hooks Work Stream will be to ensure the adoption and success of these APIs and specifications in the Canadian context. The efforts to achieve this goal will take the form of communications and promotions to grow Canadian implementers' understanding of the two foci of the Work Stream, observing and analyzing where and how existing SMART on FHIR profiles work (or, more importantly, DON'T work) in Canadian health system contexts, and consequently developing and delivering new SMART on FHIR profiles and specifications that meet simultaneously the digital and care-model needs of Canadians.
Join the SMART on FHIR / CDS Hooks Work Stream Today
This communication serves as an open call to all existing FHIR Implementations working group members to grow their involvement and collaboration by joining the new SMART on FHIR / CDS Hooks Work Stream. Similarly, for those FHIR implementers and digitally-driven enthusiasts not yet part of the working group, you are strongly encouraged to join the FHIR Implementations working Group. Get exposed to its delivered successes, and join the works in progress as Canada's leaders in digital health work together to deliver seamless and connected Canadian health systems.
---
Michael Savage, Business Analyst, Ontario MD
---
Gavin Tong, Associate Managing Partner, Gevity