Posted on October 31, 2016 by Dr. Kumanan Wilson and Katherine Atkinson
In this digital world, people need digital solutions to manage their health and navigate the complex health systems. This is why The Ottawa Hospital mHealth Research Team will be talking about an innovative solution to help Canadians track their immunization records at the 2016 Canada Health Infoway Partnership Conference.
In a conversation that took place in 2014 in a Westboro park, a mother asked Dr. Kumanan Wilson about the possibility of creating a digital health tool to help her keep track of her family's immunizations. She was curious as to why she could manage her banking information from her mobile, but her children's immunization records were recorded on yellow cards that were easily misplaced. With mobile devices creating the possibility of managing health information, it became clear that there was an opportunity to help Canadians manage their immunization records from their smartphones.
Together with Cameron Bell, a first year electrical engineering student at McGill University, Dr. Wilson piloted an Ontario version of the mobile tracking app through the Ottawa Hospital Research Institute called ImmunizeON. The team then partnered with the Canadian Public Health Association and Immunize Canada to release ImmunizeCA in 2014 for all Canadians. The application allows people to manage their vaccination records, receive reminders about upcoming immunizations and access information on local disease outbreaks.
Once we had developed a pan-Canadian immunization app, we saw an opportunity to use the app to help improve provincial immunization systems. In order to integrate the app with provincial systems, it became apparent that we had to align our terminology standards with the Pan-Canadian Reference Sets developed by Infoway. In doing this, we recognized the need for a national source of truth for vaccination standards, where we began working with the Public Health Agency of Canada to initiate the development of the Canadian Vaccine Catalogue. This catalogue would facilitate interoperability between digital systems storing the country's immunization records.
On a provincial level, we are working toward interoperability with Panorama. We have developed a functioning prototype through which ImmunizeCA users can synch their immunization records with Panorama, creating the potential for Ontarians and public health to have access to the same immunization information in real-time.
---
Katherine Atkinson, PhD (c); Director of Research, Business and Development, The Ottawa Hospital mHealth Research Team; School of Public Health, Karolinska Institutet, Stockholm, Sweden
Katherine Atkinson is a PhD candidate at the school of public health sciences at Karolinska Institutet, in Stockholm. Through the development of ImmunizeCA, Katherine has learned extensively about immunizations in Canada. Her current research interests include assessing the impact of personalized technological interventions on vaccine uptake, series completion and schedule adherence.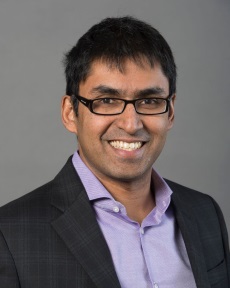 Dr. Kumanan Wilson, MD, MSc, FRCPC; Senior Scientist, Clinical Epidemiology Program, Ottawa Hospital Research Institute; Founder, The Ottawa Hospital mHealth Research Team; Full Professor, Department of Medicine, University of Ottawa
Dr. Wilson is the founder of The Ottawa Hospital mHealth Research Team, an internal medicine specialist at The Ottawa Hospital and Professor of Medicine at the University of Ottawa. He and his team developed the ImmunizeCA app which empowers individuals to manage their own and their family's immunization information.