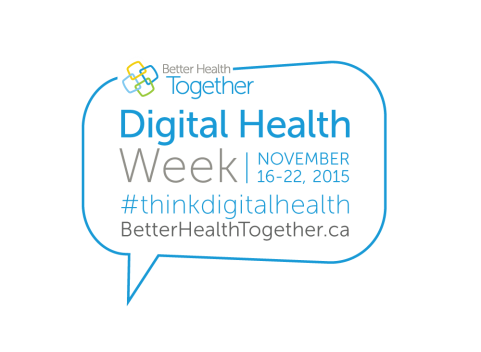 As an important member of the digital health community and InfoCentral, please consider participating in any and/or all of our upcoming events.
For session descriptions and to register, click on the event name.
Using Digital Health towards Better Health
Monday November 16, 2015, 12:30 – 1:30pm ET
Presenters: Tanya Achilles - Director Clinical Interoperability, Canada Health Infoway; Beverly Knight – Standards Manager, Canada Health Infoway; Karen Hay, Business & Stakeholder Management, Panorama Business Lead at Ontario Ministry of Health & Long-Term Care; Sophia Buvyer, Senior Project Manager, BC Northern Health; Marnie Hauck-Bohmer, Specialist, Clinical Informatics
Data Standardization
Tuesday November 17, 2015, 12:30 – 1:30pm ET
Presenters: Anne Motwani, CIHI Program Lead and Lynn McNeely, CIHI Special Projects Lead
Data Impact Challenge Webinar Series, (Question 2: Rate of repeated diagnostic imaging tests)
Wednesday, November 18, 1:00–2:00 pm ET
Presenters: Simon Hagens, Director, Benefits Realization, Canada Health Infoway; Fraser Ratchford, Group Director, Consumer Health and Innovation, Canada Health Infoway; Data Impact Challenge participants
Patients, providers and the future of health care
Thursday November 19th, 1:00-2:00 pm ET
Presenters: Dr. Kendall Ho, associate professor in Emergency Medicine at the University of British Columbia's Faculty of Medicine, practices clinically at the Vancouver General Hospital, and is Director of the eHealth Strategy Office in UBC's Faculty of Medicine;Iris Kisch, patient advocate, works with Patient Voices Network and with the University of Victoria Center on Ageing, Self-Management Workshops. Iris sits on the Shared Care Committee and the Joint Care Committee with the Doctors of BC, and the ePatient/eHealth Committee;Shelagh Maloney, Vice President, Communications with Canada Health Infoway.
---
Additional ways to participate:
Share an image on our Facebook page or Twitter using hashtag #thinkdigitalhealth about what digital health means to you
Post a selfie (team or individual) to #thinkdigitalhealth to show the many different faces behind digital health
Upload Digital Health Week badge to your social media profile image to show your support
Spread the word to your friends, family and colleagues
Visit BetterHealthTogether.ca for the full schedule of activities. Check back often as it will be regularly updated. You can also follow us on Twitter, Facebook or LinkedIn for the latest news.