Le contenu créé par les communautés et les groupes de travail est accessible dans la version originale seulement.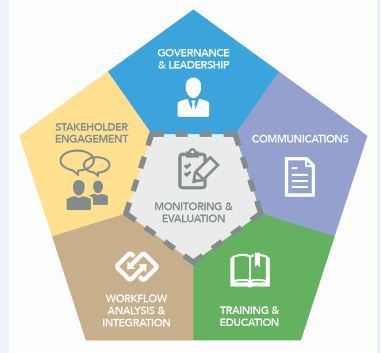 Membres: 151
Type: Ouvert
Accès: Public
A group of change leaders, committed to being a source for leading edge change management information and tools to support the evolution of change management in health care.
À propos de nous
Managing Change and Collaboration for Effective Digital Health Solutions Implementation
The Change Management Network (CMN) brings together change leaders and practitioners, from coast to coast from national health care organizations, to collaborate and exchange knowledge and experiences. The network communicates, educates and promotes the value of using change management (CM) methodologies, approaches, and tools at every stage of digital health solution implementation for successful clinical adoption and the realization of health benefits.
Forum
Documents
Cliquez sur « Gérer des documents » pour :
voir la liste complète des documents ou les dossiers regroupant les documents
téléverser un nouveau document
Gérer des documents
Vous devez peut-être ouvrir une session et/ou être déjà membre du groupe pour accéder à ce contenu.
Vidéo
Membres

Notre récent article de blogue explore les conclusions de notre étude L'interopérabilité au Canada. Lisez-le pour v… https://t.co/HPmptvER2u